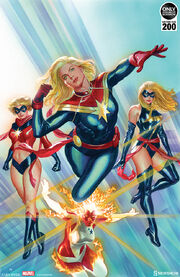 Welcome to the Carol Corps Wiki
This wiki is dedicated to the Carol Corps, the fans of the Carol Danvers!
The Beginner's Guide to the Carol Corps can be found here.
This wiki is in the early stages of development, so we need all the help we can get! KSD has posted a great picture  outlining a good structure, and page ideas for the wiki's start. You can help by making these pages or adding content. To contribute, simply hit the 'contribute' button in the upper right of the page.
If you want to start contributing, there's a page here detailing various pages on the wiki that need to have content added to them.
KEY PAGES:
SERIES:
WRITERS:
ARTISTS:
Latest activity