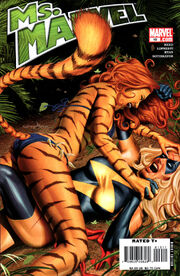 Written by BRIAN REED
Penciled by AARON LOPRESTI
Cover by GREG HORN
It's Ms. Marvel vs. Tigra...cat fight! Why is the leader of the Mighty Avengers battling a host of female heroes? What craziness are new Initiative teammates Machine Man and Sleepwalker up to? And who is pulling all of their strings? Find out as writer Brian Reed (NEW AVENGERS: ILLUMINATI) and artist Aaron Lopresti (PLANET HULK) continue their acclaimed and back-to-back-to-back sell-out run!

32 PGS./Rated T+ ...$2.99